You didn't think I'd given up scrapbooking for card making did you? I may have been a stamper and card maker before I ever found my way to scrapbooking and altered projects, but I love all three paper crafts equally. So for a change of pace and to get back into a more versatile blogging format, I give you a scrap page.
With all the amazing paper companies out there, I have a couple tried and trues that no matter what they release, I seem to just love. I may not have a clue what I'm going to do with a particular line when they release it, but eventually I'll figure it out.
Cosmo Cricket
is one of those paper companies. I've loved them since their early releases, but it was Souvenir and then Wanted that really pulled me in. I never was able to find either in a store where I could stock up on it. I noticed they had Wanted in stock in the new online store setup, so I may have to get a few pieces soon.
These days as soon as my LSS gets the latest release, I do my best to stop in and snag my favorite pieces. I still miss things. I got Girl Friday, but missed Snorkel entirely through 3 restocks. They had not ordered in Early Bird when I stopped in today, but the owner was planning on ordering it this afternoon, so I still have a chance at it. I tend to OD a couple of times a year on Cosmo Cricket layouts and projects. Last year, I got lucky with my LSS kit club and I went nuts with Hello Sunshine. I ended up with two of my all time favorite projects out of it. The
clear acrylic tag book
and the
This Man layout
. My mom still carries the tag book everywhere with her, even though the pictures are well over a year old now.
Still, occasionally, I fall in love with paper and then spend forever deciding what I want to do with it. This was the case with Mr. Campy. I loved the colors and the awesome plaids and while I'm an in doors, what do you mean you left the microwave at home sort of camper, I figured, "heck, I've got a boy, I'll use this in no time." So it's been happily sitting in my stash gathering dust. Thankfully, I couldn't see the dust through the haze of my F5 Tornado-Ridden-Certified-Emergency-Disaster-Area of an office.
If you've stuck with me this long, you're probably wondering what the point of all this is. Well, it's it never judge a paper when you buy it. I was determined to put the paper to good use and the perfect pictures for the paper turned out to not be of my boy-o. A paper like Mr. Campy may be fantastic for outdoorsy, camping, boy pages, but that doesn't mean It can't be flat out great for little girl pages. Like this one -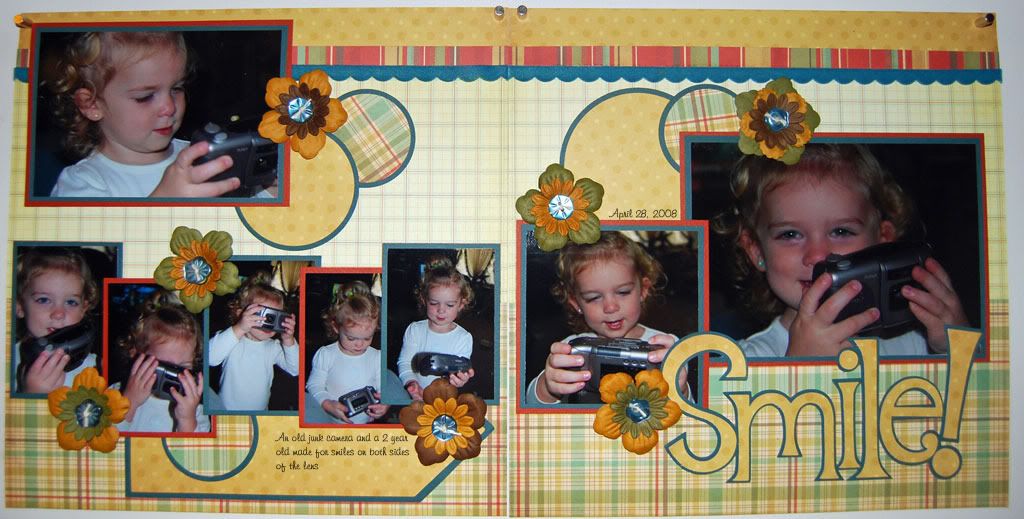 Pretty cute, isn't she? She loves cameras, so she was over the moon I gave her my old junk Avantex one. The journaling reads "An old junk camera and a two year old makes for smiles on both sides of the lens."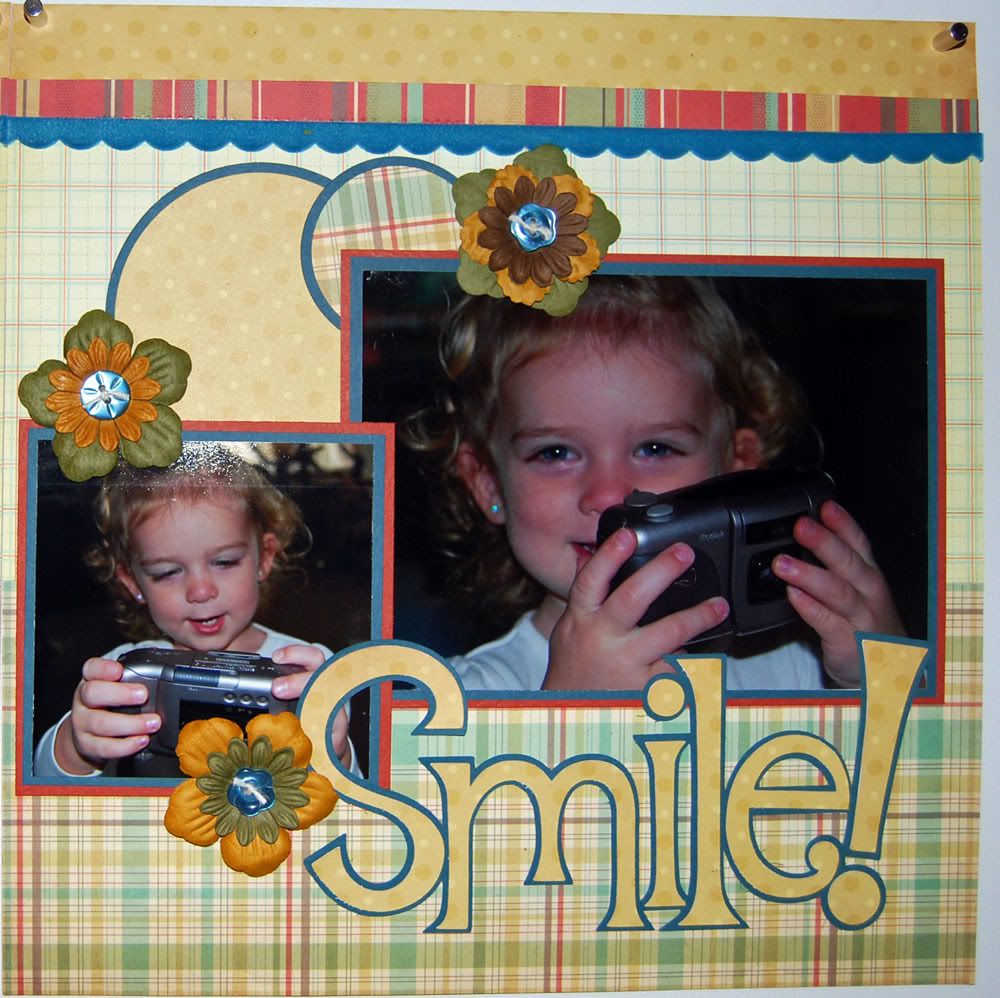 I've noticed a trend in my scrapbooking lately. While the majority of my layouts are unified two page layouts, I have one page of the pair that can comfortably stand alone. Check out the right side page by itself (prior to me adding the date!). There is even room to tuck in a bit of journaling. The page could also have easily gone masculine, just swap out the flowers for buttons. In this case, I probably would do trios of buttons in the same locations and changed the velvet scalloped ribbon to a twill in the same color tone.
Want to add some stamping? There's even areas that would work perfectly if you have the right image. I have a cute Penny Black image of some mice playing with a camera. That could be the perfect accent to the SMILE! title.

The supplies are pretty simple for this one. Mr. Campy papers from Cosmo Cricket, flowers from Prima and the buttons, of course, are Creative Cafe as is the velvet scalloped ribbon. The title and tag were done on the Cricut using the Design Studio software with the Alphalicious font and Tags, Bags & Boxes cartridges. Solid color cardstock is Prism and the twine is Rustic White from PTI.