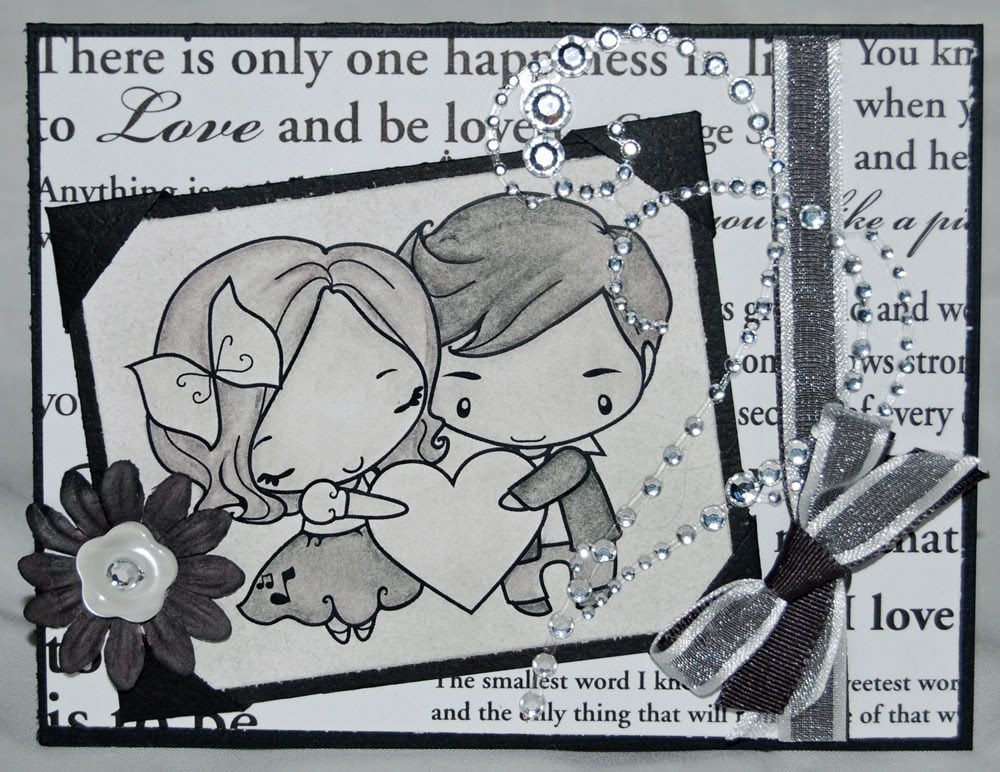 Lately, all I seem to be coloring up is Dustin images, so when
The Greeting Farm
started up their
Farm Fresh Fridays
a couple of weeks ago, I snagged my Greeting Farm images out of my image box and took a break from dragons and monkeys. The first is one of the few digital images available from The Greeting Farm. The 50's couple. The challenge was to use only black, white and grey. I wanted to create an old 50's photograph and felt they'd be perfect. I used a whopping 4 pencils for this image. It was definitely a change of pace! I blinged it up a Prima Say it with Crystals swirl and a bit of American Crafts ribbon. I think it will make an excellent anniversary card!
With two littles running loose in the house, I don't always have time to stamp. In fact, I rarely ever sit down and make a card from ink to embellishment. I just don't have that sort of solid block of time at my disposal. I frequently just color in between work, diaper changes, dishes, sippy cup refills, laundry, tuning the DVR to Space Chimps, cooking, more diaper changes, cleaning, and any of the myriad other chores that come from being a full time working mom. I craft and create in snippets. One day I may stamp out a couple of sheets of images, another time it's printing some digital images, maybe the next time I'll have a few minutes to make up a card. In between all of this, however, I always have a spare few moments to color or play with my Cricut software making scrappy page titles. Those two activities relax me.
That being said, I keep a small box in my "crafty bin" of supplies that sits tucked safely in the No Kid Zone in our living room. It's not for their safety, it's for my sanity. :) I can happily curl up on a corner of the sofa and color out an image while keeping an eye on the kidlets. In return, they can run up to the fence line and tell me of their latest adventure with our imaginary puppy or ask for a new show or a snack. It keeps all of us happy.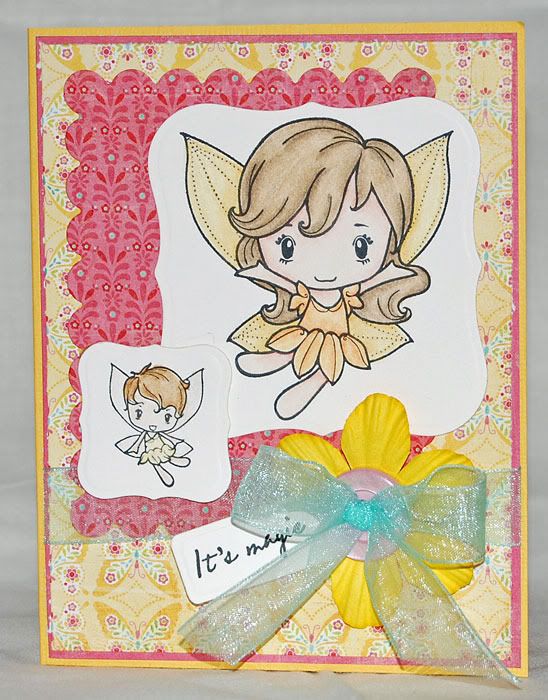 My daughter is a huge fan of dragons and fairies. So she frequently hangs over the fence when I'm coloring one or the other. Fairy Chloe from The Greeting Farm is one of her favorite images. I get regular requests from her to stamp a few out so she can color too. Hers tend to end up as rainbow blobs that serve to decorate my refrigerator. Mine end up like Miss Chloe here, on a card. This was for the recent Three Images on a Card challenge. Tiny Tink and Chloe have shimmery wings, although you can't tell from the picture. I used water color glitter from Stamping Bella on their wings and my daughter's nose. She approved.
Roses on Paper is getting ready to release some Elisabeth Bell stamps. E. Bell is one of my favorite artists. Her little girls have such a wonderful charm to them, so when I saw they were doing a call for a few guest designers to work with Ms. Bells images, well I just couldn't pass up the opportunity! Check out their
Guest DT call
on their very own challenge blog. There's still a few days left to enter!

The images are all from The Greeting Farm. Paper is a variety here. The black and white is Teresa Collins, while the pinks and yellows are BasicGrey Urban Prairie. Nesties are Labels 1 and Scalloped Rectangle. Flowers and bling are from Prima, Grey/White ribbon is from American Crafts, Aqua ribbon is Ribbon FX from Hobby Lobby and as always, buttons are Creative Cafe.