In the last few weeks of Spring, before Summer rears it's oven baked head, Oklahoma settles into a pattern of "quite pretty, and wind" and "Cut the humidity with a knife, and wind". The trees, even the stoic pecans have finally leafed out. It's been a quiet year for us for Tornadoes, for which I am very grateful. I have this thing with small dark places and a tornado shelter is pretty much a small, dark place stuck in the ground. My husband has done what he can to make it "livable" for me, but prefer not to go down there if I can at all avoid it.
Today is cracking up to be one of those "Cut the humidity with a knife, and a bit of wind" sort of days. It rained last night, so the humidity level sky rocketed. It's one of those sorts of days that you wouldn't be surprised to see the ants bypassing the picnic and going straight for the iced down lemonaide. These ants make me smile. When I look at it, I have to wonder if the poor ant on the bottom isn't going to get a lemonaide shower when the first ant gets the suction going on the straw. :)
Yesterday, my husband had two tasks he wanted to get done. He wanted to mow the lawn and he wanted to wash out the central AC unit that sits to the East side of our house. He managed the mowing hands down, with my son and daughter watching and waving from the storm door when he did the front yard. During the accompanying weed eating, our not so great neighbor decided he should water the three that sits just a few feet inside his property line. This was about 10:30 am. By 3:30 pm, after a visit from my best friend, his wife and their foster daughters, he discovered a fine lake surrounding our AC unit. By 7 pm, the lake was encroaching on the back patio. The sprinkler was still running at 8pm when we moved inside to give the kids a bath. Needless to say, the AC unit still hasn't gotten cleaned out. On the other hand, we've got a nice spot to launch that Ark we considered building a few weeks ago!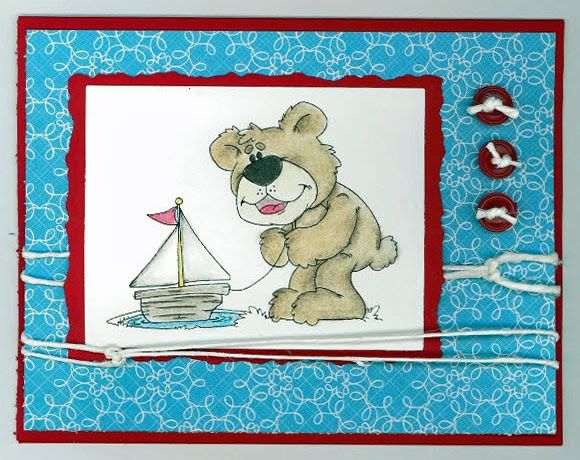 This fine little bear would have had a grand time on the East side of our house yesterday. He would have been up to his ankles in water and mud, but the boat would have gotten a good sailing. Sadly, I doubt the tree got any of the water. So the end result is our neighbors get an outrageous water bill, we get a lake and I get a story to go with a card I made. Both images are available over at
Dustin's Place
individually and as a set with other great summer images.

Yep, I'm still working my way through the Die Cuts with a View Citrus Pad. I love that their stacks have such a great variety of patterns and papers. I used the Rectangle and deckle rectangle nesties for these cards, more of that hemp twine and a flower dot Cuttlebug embossing folder from Provo Craft. Flowers are Prima, Cardstock is Real Red from Stampin' Up and buttons are once again Creative Cafe.