Yes, it's release day over at Pike's Place...Dustin Pike that is! Seven great images including two bears, a pelican, a pirate, a wizard, a sweet little tea party and that adorable Ark I showed you yesterday! You can buy the
whole release here
for a mere $7! That's just a dollar an image. A pretty sweet deal, if you ask me.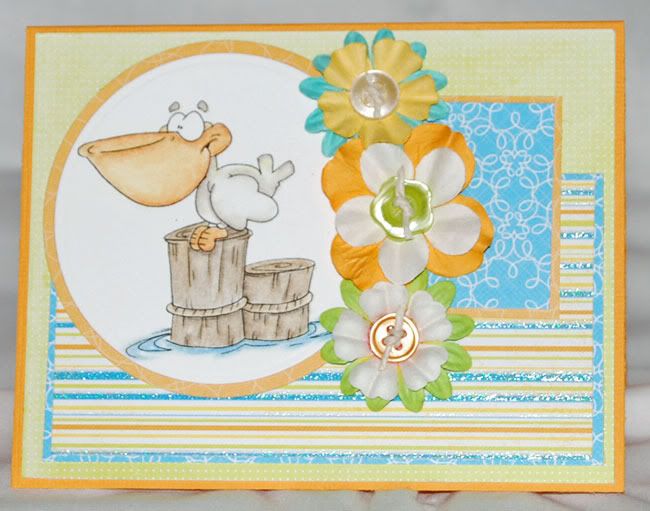 Now I showed you my favorite image, the cute ark, from the release yesterday. When Dustin gave us the art, I knew that one would be colored up first. I printed off a sheet load of images to color and found myself surprised by my second favorite. It wasn't until halfway through coloring him that I just fell in love with the adorable little pelican. Don't get me wrong, he's pretty cute in black and white, but he really comes to life when you add just a bit of color!
Lelia found this silly limerick that is perfect for this guy -
A wonderful bird is the pelican
His bill can hold more than his belican.
He can take in his beak
Food enough for a week;
But I'm damned if I see how the helican.
If you've been reading my blog for a while, you know I'm a tea lover. Some would say "tea snob" and I'm sure they mean it in the nicest possible way. It's certainly true. I'm worse than a coffee addict suffering from caffeine withdrawal when it comes to my tea. I prefer fresh, loose, from Whittard if I can get it and Republic of Tea if I can't. I have been drinking tea for as long as I can remember indulging in a hot beverage. I can't stand coffee. I don't even like the way it smells. I once found I a brew that I liked the smell of, only to discover that it still tasted of coffee.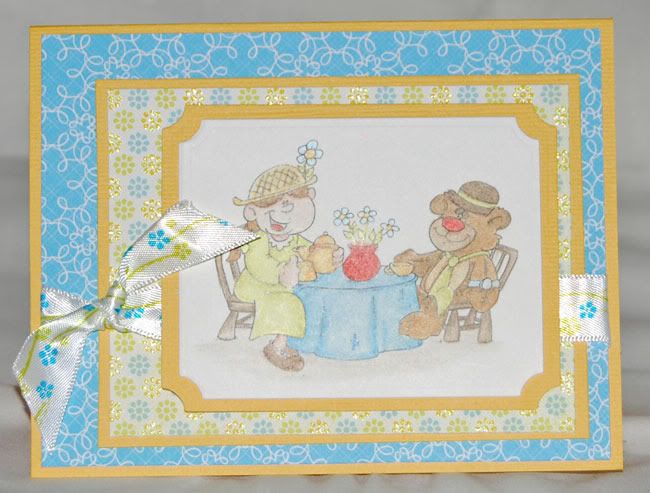 All that being said, I was delighted when I saw the tea party image for this release. I love tea in most forms and tea images definitely rate high on my list! Good tea images are hard to find. I loved the little girl all dressed up and the bear in his own finery. I can't wait until my daughter gets old enough for her and I to have a tea party of our own.
The Die Cuts with a View Citrus pad had the perfect paper to go with this image. The tiny flowers and loaded with glitter. The ribbon was a total fluke. I did a ribbon swap about a year ago and that ribbon was in my package. It was a perfect match to my paper selection. There wasn't enough to make a bow, but the knot kept me from ODing on flowers like I did on the pelican card and making the whole thing look fussy and prudish.
Now you've seen all my stuff...skip off and check out Dustin's
gallery of design team cards
for this release. Or browse through the design team's blog with the links on the left.
Once again the cards were made up with Die Cuts with a View Citrus Pad, American Crafts cardstock, Creative Cafe buttons, Making Memories mini-snaps, pinking scissors and Nestabilities. Dustin's oh so fabulous images were colored with Prismacolor pencils and blended out with Zest-It on Gina K's Pure Luxury Baseweight.