Yeah, I'm one of "those" people. Before I had kids, I was always up early, often before 7. It was my quiet time in the house. I would curl up with a book and a cup of tea, watch HGTV, maybe do a bit of time on the computer, or even scrapbook. I loved being up when the house was so silent and slowly filling with dawn light. My husband is a night person, so I often had the house to myself for 3 hours.
Then I had kids. And I still get up at the back side of dawn most days although I count it a good day if the day starts after 7 rather than before. Rather than books or HGTV, my days start with Mickey Mouse Clubhouse and baby snuggles. It's still a pretty special time for me. I have the kids entirely to myself and while it isn't quiet, there's something to be said for giggles and squeals.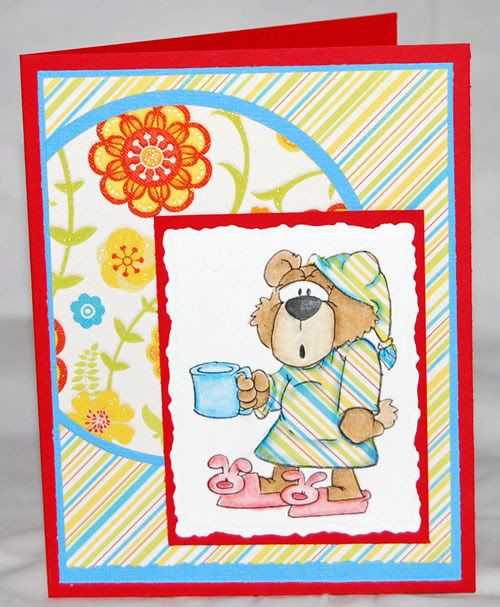 For my sleepy bear, I went bold and bright. He may not be awake, but it's not for the lack of trying on the rest of the card! Can you paper piece a digital image? Sure, why not? I certainly did! It takes a little more work than paper piecing a stamped image, though. I ran a print off of my image on a standard piece of copy paper. Then I used some repositionable adhesive on the back of my patterned paper and adhered it over my printed image. I ran both sheets together through my printer to print the bear onto the patterned paper. I pulled him off, went over him with pencil to shade and highlight, blended and trimmed him out. I went around the pieces with a black pen as I find it makes the paper piecing "fit" better. Otherwise, it stands out to me. All glued together, his striped night shirt and cap perfectly matches the background paper.
So for the overall details, the card was made up with Die Cuts with a View Citrus Pad, American Crafts cardstock, and Nestabilities. Dustin's oh so fabulous image was paper pieced with more DCWV Citrus papers, colored with Prismacolor pencils and blended out with Zest-It on Gina K's Pure Luxury Baseweight.