That sounds like a big event, doesn't it? All I can say is we got our hands on Dustin's next release and it's delightfully wonderful...of course! But before I get into that, it's Wednesday! Which means another freebie from Dustin. This week is destined to be a favorite of mine. It's a darling little
code monkey
. I didn't get a chance to work on him for this release, but I can promise you'll be seeing him here soon! In honor of Wednesday Freebie day, I did manage to color and card up one of the freebies from a couple of weeks ago.
I have the hardest time with masculine cards. I always want to doll them up with flowers and such.
Monster trucks
, however, do not lend themselves to anything but lots of dirt and dust. I managed to resist loading it up with flowers and such! I stuck with some simple Making Memories mini snaps and was reminded why I never ever use these. They were a right pain, even with the crop-a-dile! I had to keep my unpleasant words down to mutterings as my daughter was fascinated with Mama's tool usage. To her delight, I let her help crank the Deckle Rectangle Nestabilities through the Cuttlebug. Courtesy of my mom, she's got her own Kids Cuttlebug, but at 3, she's still a bit young for it.
I knew from the moment I first saw the Monster Truck that I was going to color it red. I knew there was lots of red in the DCWV Citrus Pad I decided to use for my next collection of cards, so I was set. What I didn't count on was the sheer amount of glitter in the pad! There were a few stressful moments before I managed to find a nice simple glitter free red stripe. Paired with black, the red truck really pops!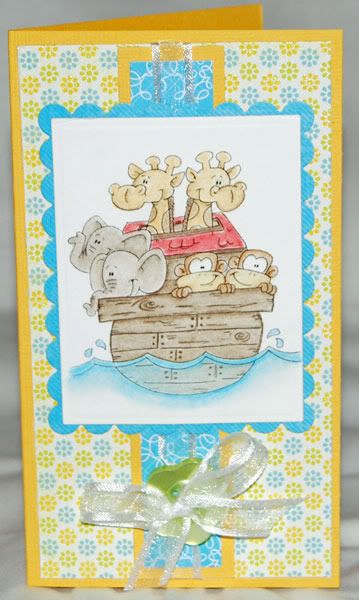 For those of you waiting ever so impatiently for the sneak peeks, here's a boat and a bear. Boat first...it's spring in Oklahoma which means it's either 85+ degrees, with extra humidity and lots of wind, or it's 45ish degrees and pouring rain...with lots of wind. Spring in Oklahoma can be defined as "with lots of wind". We get just enough of it to be heartily tired of it by the time it stops blowing in early June. Come late August, when it's hot enough to cook an egg as long as you ignore humidity that wraps you in a sopping wet electric blanket set on high, we're wishing desperately for even a light breeze. As for the rain side of things...there's just enough of it that an Ark starts looking like an excellent weekend project. Fortunately, this ark only took a few minutes and won't kill off the grass in the back yard or make the neighbors suspicious.
Spring also delivers to Oklahoma flowers and bugs. My daughter is quite keen on the first and adamantly opposed to the second. I've given up trying to explain them and have resorted to telling her it's just "Bug Season". I don't have any flowers planted around my house as any plant item that can't thrive on neglect and Oklahoma wind it's worth my time to kill. :) My veggie garden is in and for the first time in many years, everything is still alive...even the cucumber plant the squirrel dug up in search of a pecan. So while I don't have flowers, I also don't have bees.
Ha! You thought I wasn't going to be able to wrap that all into a bee card, didn't you? This bear and his cute little companion are simply the Bees Knees! I will say that when you get the image in Dustin's release, the bee has antenna. Here he's gone for the aerodynamic look due to all that wind and a bit of over enthusiastic scissor work. You can't tell from the picture but the flower cardstock is loaded up with glitter, as are the bee's wings.
So for the overall details, all of the cards were made up with Die Cuts with a View Citrus Pad, American Crafts cardstock, Creative Cafe buttons, Making Memories mini-snaps, pinking scissors and Nestabilities. Dustin's oh so fabulous images were colored with Prismacolor pencils and blended out with Zest-It on Gina K's Pure Luxury Baseweight.
Check out the rest of the design team for other great peeks!