I'm not old. At least, I don't feel old. I'm not over any hill. I'm not 39 plus a bit, or having anniversaries of past birthdays. I am simply 40.
I have a lot to show for 40 years of living in this world. I have two beautiful amazing children. I have been with my wonderful husband for more than half my life. I've done things that others dream of, like climbing to the top of the Leaning Tower of Pisa with my dad, counting the steps as we went. I've seen The David, but not the Mona Lisa and have been in more castles than I can remember. I saw New Orleans before Katrina and walked through the Alamo. I've gone swimming in an Olympic pool and walked through a concentration camp in Germany. I've seen the Atlantic and Pacific oceans, the Gulf of Mexico and the Mediterranean. I've driven through the Swiss Alps and gone skiing in the Colorado Rockies. And in 40 years, my very favorite place is my very own house in a small town in Oklahoma, where my children run to greet me when I walk in the door from work.
Today I am 40. I am not, nor will I ever be old. I just don't have time for it. I have been many places and seen wonderful things. I still have more to see and do. I probably always will. I'm okay with that.
My husband has seen fit to buy me a frankly obscene amount of Spellbinder's Nestabilities for my birthday. I can't imagine a better way to celebrate such an auspicious event. My parents, however, think they can. They have decided to invade. Which means I have spent the last week scrubbing my house from top to bottom to the haunting echos of being threatened into cleaning my room as a child. I should have known that would come back to haunt me. As this weekend also celebrates the first birthday of my youngest and since I know where I rate on the visitation scale these days, I'll mostly forgive them.
The down side of it all is that although I have new Elisabeth Bell and Mary Hall stamps, with more on their way, they are still tucked away in their original shipping packet. Still unmounted and uninked. Sad and alone. Horrible, isn't it? On Saturday, after my parents wisk away from what I'm sure will be too short and too long of a visit, I shall recuperate by cowering on the sofa with a sheet of stamped images and my prismacolor pencils. Look for lots of eye candy next week.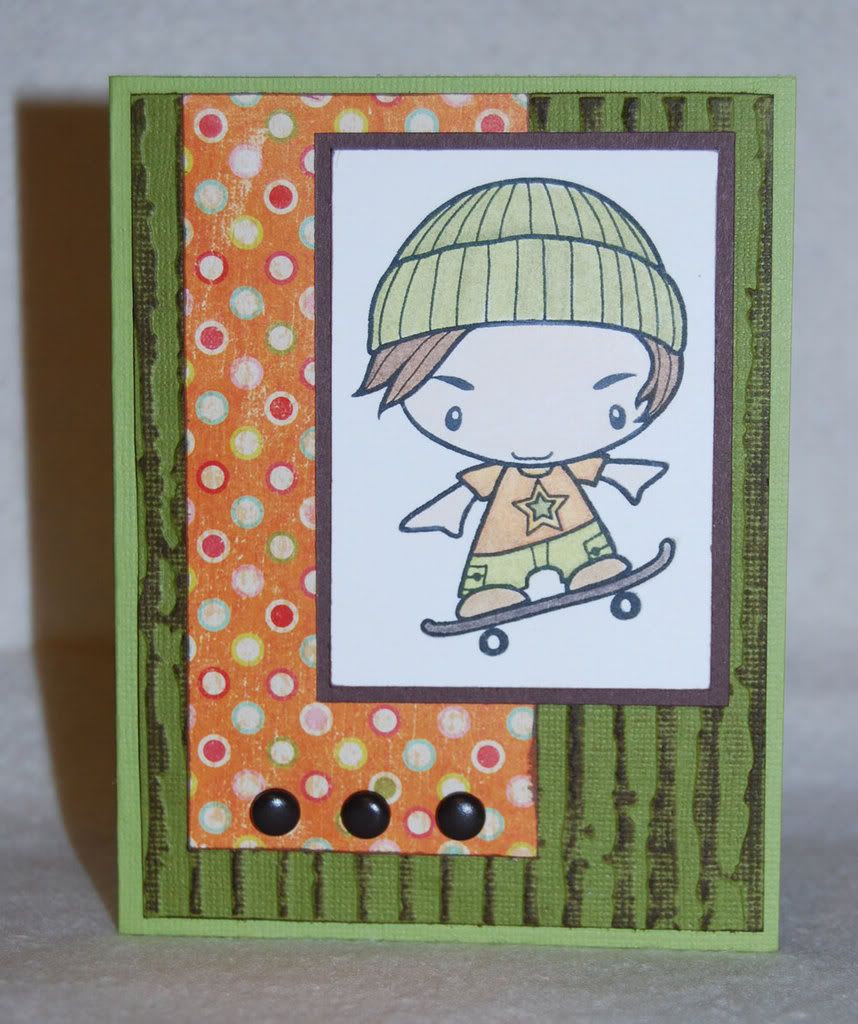 For this week, I leave you with a card for my son. He'll be one. I honestly doubt he'll care. He might if I let him chew on it. Hmm....
Stamping supplies - $$$
Cake and toys that will soon be forgotten - $$$
Getting to chew on the birthday card - Priceless.
Who knew?
Supplies - Paper by My Minds Eye, Stamp by The Greeting Farm (Skater Ian), Ink by Tsukineko (Memento), Color by Sanford (Prismacolor), embossing by Provo Craft (Cuttlebug embossing folder)