With chocolate and good wishes. I don't know if you have noticed or not, but it's been over 2 weeks since my last blog post. It's been a roller coaster of a month so far, but things are getting better. You see, on July 1st at 1:30pm, I was knocked off my feet. I was informed that my company was moving to a new eCommerce model and my position and skills were no longer needed. I think that's a ongoing thing in this world today. It's difficult and frustrating and there's not a dang thing you can do about it. I floundered for a bit, as would anyone in my position. I lost my center, my balance.
It's taken me a while to find it again and find me. Sometimes I'm harder to find than my center, but in this case it was the other way around. I've got an awesome husband who reassured me that this too will pass and a firm faith in the Big Guy that through him I can do all things. So I've put myself on the market, sent out resumes and cover letters and, frankly, I'm seriously looking forward to being just a Mama for a while. We have a game plan that is already in place and kicking. As of Friday, well...I have a bit more time on my hands. Although, wrangling kids is as much of a full time job as the wrangling cats (programmers & designers). Oddly, dealing with programmers has been excellent training for dealing with 3 year olds. :)
So I've packed my bag with chocolate and good wishes. It's a pretty cute little bag, don't you think? I used a template from
Splitcoast Stampers
and Cosmo Cricket Dutch Girl. It's my first go at this particular template, but I quite like how it turned out. Next time I will tweak it a bit to suit me more. I think that the flaps are a bit overwhelming and can be scaled back. Folding and cutting was pretty straight forward. I found that it worked best for me to print out the template and attach it to my patterned paper with the Herma dot repositionable adhesive. Once stuck together, I could trim it out and score all the lines without any guess work.
After everything was trimmed and scored, I removed the paper, scrubbed off the dots and started assembly. My beloved Crop-A-Dile came into play to punch all the holes, however, I wasn't able to use it for the eyelets on the top flap. It just couldn't get into that spot for crimping. I ended up digging out my old Making Memories took kit for my manual eyelet setter.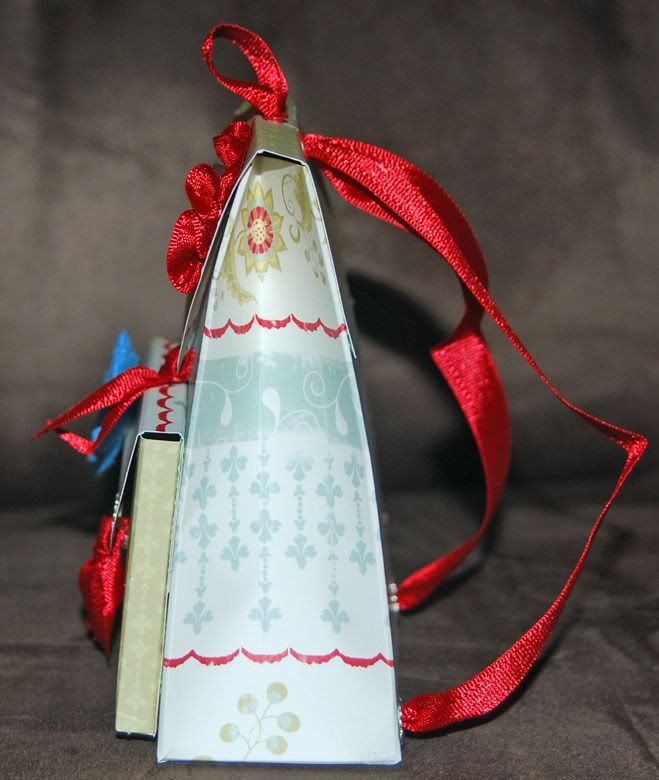 I have a small collection of Wrights hem binding tape. I like the bold vivid colors, but the Wrights brand tends to be a bit stiffer out of the package than I care for. When I got to restock, I'm going to be hitting etsy as I've found several places there that sell bulk tapes that are silkier and softer. Still, Wrights is handy and you can pick it up in the fabric notion section of Jo Ann's, Wal-Mart (if they have a fabric section) and Hancocks. So lots of local sources. On a positive note, the stiffness really worked well when I gathered it and tucked it behind the flower button.

I've pretty well covered all the supplies in the post, but here's a recap. The paper is Cosmo Cricket Dutch Girl, the last in my Cosmo Cricket run for a while. The ribbon is Wright's Hem Binding Tape, but eyelets are Making Memories while the button is (gasp) Creative Cafe. Seriously, if you have a Creative Cafe store near you, go play with their buttons. The butterfly is also Creative Cafe, from their new release. I've been waiting forever for these cute felt flutters!