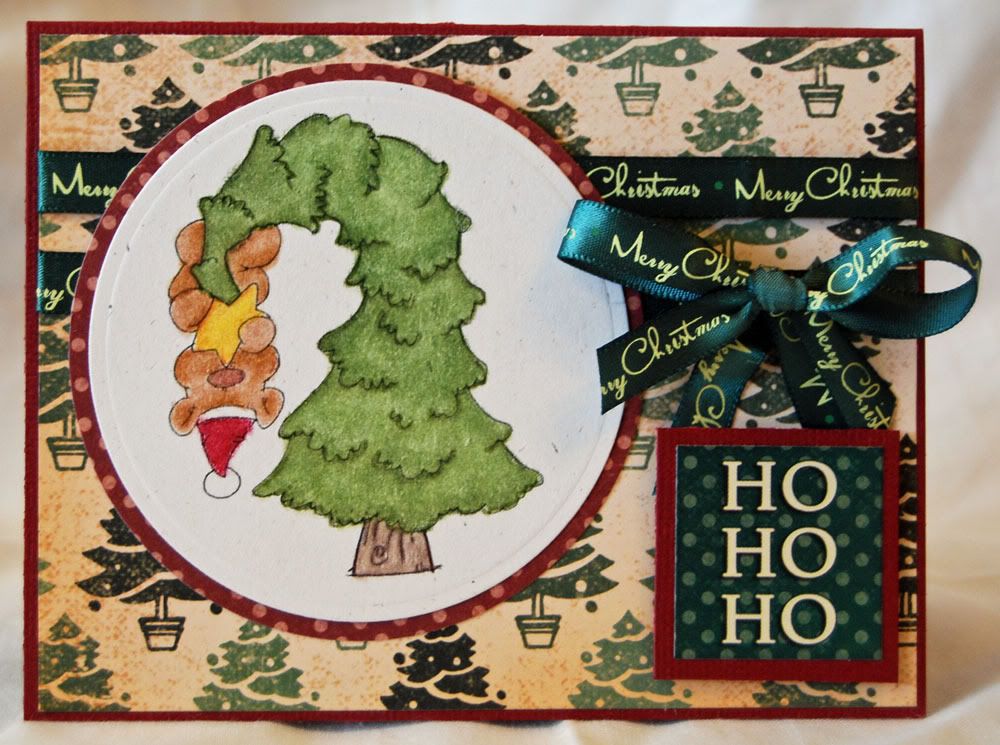 I'm one of those Christmas nut cases that decorate their house following a specific theme. I love the sparkling whites and blues and the oodles of snow themed decorations. None of today's projects fall within that theme. :) So, let's start with a card. As soon as I saw this image in
this week's collection from Dustin
, I knew I would use it. It fit well with my sense of humor and I can easily see sending it out to a friend during the holiday season. Since I had my BoBunny paper bin out, I pulled out their Classic Christmas papers from a couple of years ago. Decorating with a theme doesn't necessarily mean I don't horde Christmas papers in traditional colors.
In addition to being psychotic about my decorations, I also wrap packages with real ribbon bows, tying on gift tags rather than using the prepackaged flimsy tags that are sold in stores. I love making personal gift tags for each package. I think that makes the gifts just that much more special, not to mention looking really cool when they're stacked under the tree. They're also great to tie onto gift bags as an added embellishment.
These tags are 3" x 3 1/2" with a hole punched in one corner for the ribbon. For package use, I would use the bit of ribbon to tie the tag to the package or bag. The images were printed at actual size for these tags. I've also done smaller tags that are 2 1/4 x 2 1/8. Those are done by taking a quarter sheet of standard 8 1/2 x 11 cardstock and cutting it in half, then folding that in half again. Quick easy cutting measurements. For those, you'll want to size the images down, perhaps using the more simplified ornament peekers that Dustin has released this month.

Supplies this time around are pretty cut and dry. I used BoBunny Classic Christmas papers. These are a couple of seasons old, but I wouldn't be surprised if you couldn't find them with a bit of searching on the internet. The ribbon is also from the Classic Christimas collection. I also used Bazzill cardstock and a few different Spellbinders Nestibilities. Check out Dustin's
new release for this week
and don't forget to stock up on the Christmas images he's released the rest of the month.