This month's kit really rocks for me. It's Hello Sunshine papers from Cosmo Cricket. They're one of my favorite vendors so I was pretty excited. I've been wanting to see this paper first hand and I was not disappointed. I even remembered to take a picture before I sliced into any of this yumminess -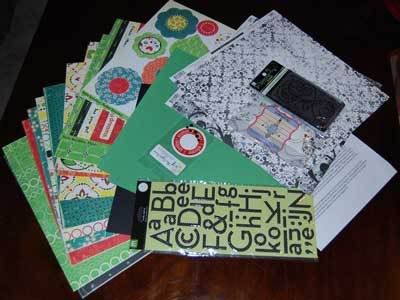 In addition to the Cosmo papers, there are a couple of sheets of Black Market Paper Society paper. This stuff is seriously fabulous. If you haven't seen, or rather touched it first hand, it's a text weight texutred paper. It feels kind of like a stiff linen fabric. I love it! The distressed look black and white papers and really sweet. I cannot wait to cut into them! This month's kit is all about sewing, so there's a set of Bazzill In Stitches templates. Being an avid cross stitch girl, you'd think I would be all excited about these. I'm not. I've never stitched on my layouts. Heck, even my buttons are glued down! Those that appear to be "stitched" aren't. I just thread a bit of floss through them and tie it off. Presto. The kit is rounded out by MM epoxy letters. I'm not a fan of sticker letters of most sorts. I make an exception for AC Thickers, but that's about it. I think my biggest problem is that there are never enough of the right letter. These are the same. I've looked at three prospective titles and keep running out of vital letters. They're about to go right back into the package and straight into the donate pile. Rounding out the kit is some black bling, a few journal spots from an etsy shop (also not likely to get used), and Jenni Bowlin birds.
Now I've got a friend who is total bird nuts, with a focus on owls. She's obsessed, but I don't hold it against her. (Love you, Becks!) She liked them, but I am so not into birds. I keep staring blankly at these and wondering what the heck I'm supposed to do with them. They don't fit in with any of the pictures I printed out. I have a feeling they're destined for the same pile as the polka dot Making Memories expoy letters.
Not satistfied with that load of goodies, I shopped the store for things to round out my kit. I waffled over some jumbo green Bazzill blossoms, and ended up putting them back. They pushed me over budget. I figure I'll end up going back for them in a week or two when I'm ready to embellish. I added cardstock, more Black Market paper, the 8x8 matching Hello Sunshine pad and glitter thickers. A girl cannot have too many packs of glitter thickers! Well, this girl, anyway. :)
Last, but certainly not least, is another Design Experiment page. This is challenge 13, a word(s) or phrase you use all the time. With a 2 year old who doubles as an auto playback tape recorder right now, we've changed a few choice words. The new curse word of choice in our house is "Aw, Pickles!". Anyone a fan of Higglytown Heroes? :) Besides being a phrase she'd already picked up from watching Higglytown, it's silly enough to stick in my head. I have gotten some interesting looks saying it in public. The wording down the left is all Cricut work. I actually did three different versions before I found one that worked with the layout. Email me if you'd like the .cut file. The layout is from the June Page Maps. Papers are Making Memories, cardstock is Prism, lettering is Cricut Cuttin' Up, title is glitter Thickers.
Oh wait, one more thing. I have to show off my fabulous fashion sense. I got a new shoe that makes quite the statment -
Before you ask, it's broken. I stepped on a piece of PVC plumbing pipe Missy thinks is a toy, in the dark of night. I walked on it for a week and a half before I found someone who could correctly read an X-Ray. (Bleh!) I get to sport this fancy bit of business until August 20th. Hmm...I wonder how it would look with a few rubons? Altered foot brace anyone? :)