(Gasp!) Two blog posts in two weeks? Will the madness ever end? Well, probably, but stick with me for the moment, okay? I'm really trying to keep this thing up. So major post today. Last month, in a fit of temporary insanity, I joined the kit club at my local scrappy spot. To be honest, the owner has been tempting me with their kits for several months. When she told me June was going to be Jenni Bowlin papers, I really wasn't any more tempted, but I actually had the funds and it was the Trendy line, which is all reds, whites & blues. I'm rather fond of that color combo so I figured what the heck.
After spending a month working with Jenni's papers, I'm still not overly fond of them. They're pretty, but they just don't reach out to me and scream 'Drop Everything & Crop!'. So I won't be going out and buying up all the lines I don't have. Still, I'm really pleased with what I turned out this month. I do wish I had taken the time to take a picture of the kit before I started scrapping, so I could show off what I had to work with. I chose to not use several big items, so they're tucked away into my stash for later inspiration. At any rate....Let's get to the layouts!
Favorites first. I've got two. The first one was really fun to put together. After my daughter started walking, and then running, we went through a phase where she was darn near impossible to catch well on camera. I've got a ton of really bad shots of her. I got teased for sending out images that were less than perfect, but I couldn't bring myself to delete them. After all, they were a part of who she was then! So an entire layout of less than perfect shots -
Roll back the calendar about 6 months and I pulled out pictures of my girl and my dad. These were from my Gran's memorial service, which is why he was dressed up. Either way, she didn't care much. She was far more interested in his tie. I actually had a series of wallet size pics ordered up from Wal-Mart to add to this layout, but their machine was down all stinkin' weekend, so I decided I didn't need them and moved on. You can't read the title well at all here. (I guess I could post the close up shots I took), but it says "If I told you I LOVE you, could I keep you FOREVER?"
And now for pictures in between the two. This layout is probably my least favorite. I feel like it needs something but I just don't know what. It's not a bad layout though, so unless it really starts to bug me, it's not gonna change.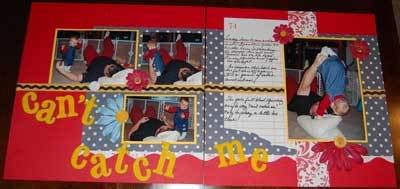 One more from the kit. The one is a
Design Experiment blog
challenge. I do love that blog! The challenge was week 14, I believe. I did five self portraits and journaled about how I felt. These are pictures of me and the new little man in my life. I think it's pretty obvious that I was flat exhausted. I am not at my best at 3 am, but there's nothing like a camera flash to snap you into reality. :) My journaling is more querky than serious here. Anyone who can be serious at 3am needs to go back to bed! I'm still exhausted, but I figure that's not going to change for a good 18 years or so.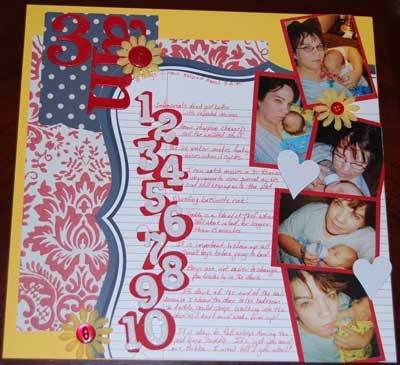 I'll wrap this post up here. I've got another Design X layout I finished and I remembered to take pictures of this month's kit before I cut into it, so I'll save those for later this week or maybe next. If you're lucky, maybe tomorrow, but c'mon folks, don't go holding your breath. It's not like I've got a good posting track record here!