I only have to step outside my door in the chilly, misty, blustery day and I don't believe that Spring is anywhere close to Oklahoma. To be honest, I don't mind at all. I'm a bit of a polar bear. Give me a couple more weeks of snow and I'd be one happy camper. Sadly, the gusty winds that signal Spring in this neck of the plains will be blowing in any day now. They were here last week and are only taking a brief break to remind us that Spring is not yet here.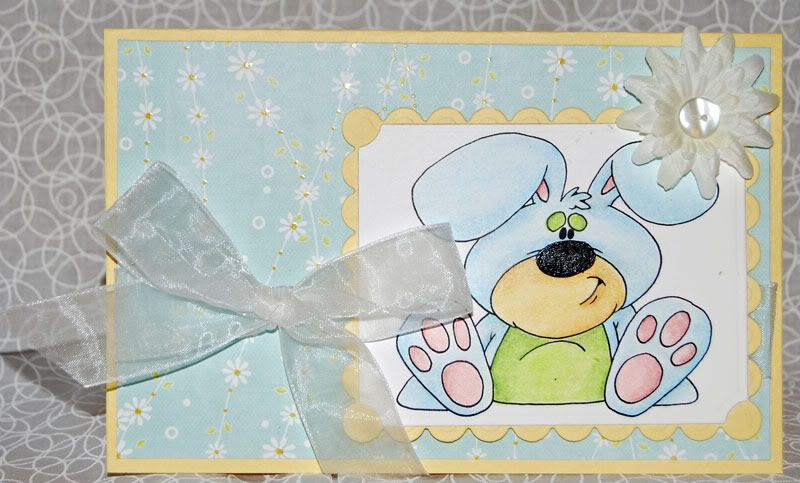 For those of you starting to feel the first itches of Spring Fever, be sure to check out the February
Doodle Dragon Studios Membership
. Not only is it a great deal, it's loaded with delightful bunnies and chicks to bring out the Spring in even the grumpiest of Polar Bears. One of my favorites is this fat little fellow. I went very non-traditional bunny with him, decking him out in cheerful pastel colors. Inside this bright card is a cheeky "Dye your Hare? I never would have guessed!" Needless to say, the charm is all on the outside.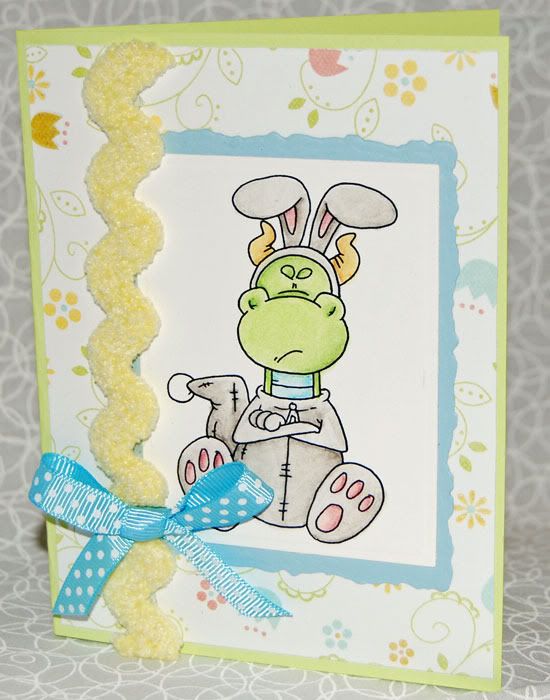 Speaking of charm, what do you think of this fellow? As soon as I saw him, I knew it was time to do a reprise of my favorite bunny card. Inside, the card says "Don't worry. It's only a grey hare!" Two of my favorite people will be getting these cards. We've been trading such sentiments for years and they know they're sent with just as much love as laughter.
Feeling the need for a bit of Spring in your step? Why not jump over to
Dustin's blog
and check out the newly revamped challenges. Spring is in the air over there and I look forward to seeing what you produce. I might even catch a bit of Spring Fever browsing everyone's creations.

Supplies this time around came straight from my stash. In this case, from the scrap bin. The patterned papers are a spring line of Imaginisce from three years ago! I still love them and regret I didn't buy extra. If anyone has these papers languishing in their stash, send them on over! I can't get enough of that sweet daisy paper! The cardstock this time around is Prism and my much loved Gina K. Pure Lux base weight for the images. Nestabilities, of course in deckle, scallop and label shapes. The ribbons and rickrack are all from my stash. I lost my LSS a couple years ago, so I've been shopping my office lately for supplies.
Tune in later this week and I'll be sharing my version of
Dudley Grows Up!
I ran a bit late due to a dead camera battery, but they're definitely worth the share.