I made a card!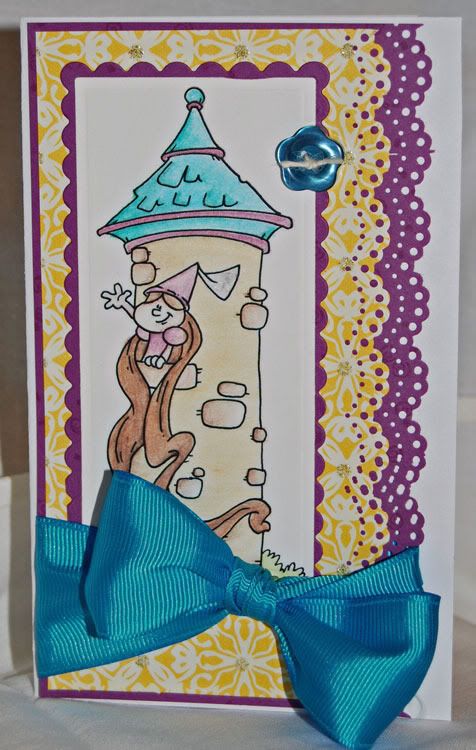 Yes, you should be impressed. This is the first crafty thing I've made in nearly a year that didn't require a sewing machine. I've made aprons, started placemats (no, I don't want to talk about it), a collection of burp rags and swaddling blankets along with one totally rockin' Christmas dress for my daughter. That's not saying my pencils have gone neglected. Not by a long shot! I have a fine collection of colored images, including some totally cute monsters and bugs. I have not, however, managed to put them onto a card. I have even managed to add to my collection of pencils, after a couple of trips through the pencil isle at Blick Art store in Chicago. That's a story for another day.
Today's story is all about Princesses. At the heart of the best fairy tales are princesses. Tall princesses, short princesses, and even princesses stuck in towers. Such stories should always end "and they lived happily ever after". I honor of princesses everywhere, along with a few princes and even a gnome or two,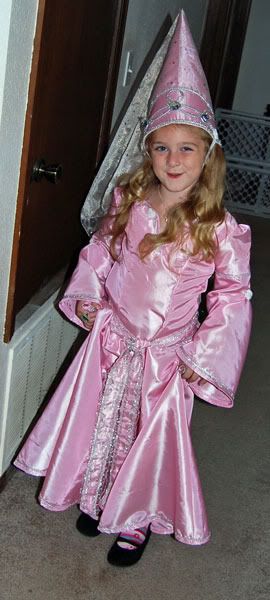 Dustin has offered up a fine collection of princesses, even a self-rescuing princess who slays her own dragon. It's the Ever After collection being released on Thursday. You'll want to check it out and take a look at the new, improved
Doodle Dragon store
!
This card is my favorite of the images being released. Growing up, I had two very favorite princess stories. One was a tale called "The Practical Princess", the other was Rapunzel. My take on the long haired girl is considerably less pink than my own princess wanted, but since I was doing the coloring, I got to pick the colors! Given a choice, my princess would be pink, pink and, oh yes, pink.
I leave you today with my other princess crafting endeavor in her pretty pink princess costume I made for Halloween. I will say that she's the coolest craft project that I will probably never finish.

Card supplies are shockingly enough, a DCWV stack and a Creative Cafe button. The image was cut with long rectangle Spellbinders nesties dies and backed with scallop rectangle nesties. The lace edge is courtesy of my one and only Martha Stewart edge punch. Coloring was done with Prismacolor and Derwent colored pencils on Gina k's Pure Lux Base-weight cardstock.