Sometimes, it is nice to do a card that doesn't require any stamping. Particularly when you're doing 32 of said card. I'm going to a fire wife baby shower this weekend. Yes, another one! If you're trying to figure out the count, we're at 11 in 20 months. Yep, 11 babies and toddlers running loose at this year's Christmas party. Should be a blast.
What started off as a cry for help, to add a little pizazz to the invitation that had already been started, quickly became a complete redo. I wish I had taken a picture of the original. It had potential, but it did need something. After some discussion about ways that we could pump up the design, Kara asked if it would just be easier to start from scratch. Since I had a package of pink baby paper I'd bought to make thank you cards for The Girl, I assured her that not only could we easily do up a new design, we could do it without buying anything.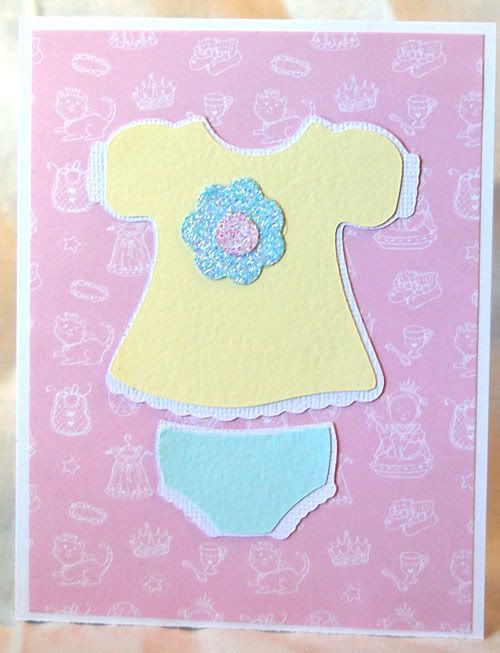 Let me take a moment to talk about the Cricut Design Studio software. I know people rave about Sure Cuts A Lot, but I've been extremely happy with the rather basic package Provo Craft put together. That's not saying it couldn't use a dramatic upgrade in the features department! That being said, I really like the flexibility it gives me with the standard cartridges. I literally do not make a cut with my machine without it. The paper savings alone makes it worth while! I love being able to weld my shadows and maximize my cuts. This job was no exception. I broke out the Cricut Expression machine I got for Christmas (h'ray for Black Friday sales!), and a 12x24" mat. With one mat and two sheets of cardstock, I was able to cut 90% of the darling little dresses. Another run through got the white shadows. Once more through with got the rest. So three times through the Cricut with a 12x24 mat and I had the makings of 32 baby shower invites.
When doing that many cards, mass production is the best way. I printed the details on white cardstock we used as the card base. That is layered with a pink paper, followed by the baby dresses. To give the cards a little bling, I ran the flowers through my Xyron 150 (the little X one) and added glitter. Another thing you need to be aware of when doing invites or cards that need to go through the mail is to keep your bulky embellishments to a minimum. Simple can have lots of great impact.

This was a super simple set of cards. Just cardstock, glitter and six sheets of patterned paper. The cardstock is American Crafts, Georgia Pacific and Prism. The glitter is from Art Institue and I haven't a clue who makes the patterned paper. I bought a bulk pack of it at Dollar General when I was making thank you cards for Linsey's baby shower. I used the New Arrival Cricut Cartridge for the cute little baby dress.