Christmas is my favorite of all the holidays. I can't wait to put up the tree, pull out the decorations and cover our house in snow themed decorations. Oddly, my obsession with Christmas does not extend to Christmas themed scrap papers. This is mostly because the Christmas themed papers are so overly...well...Christmas. The last Chistmas papers I bought were Prima and I ended up using them to make a Halloween layout. I'm not sure how that works out in the scheme of things.
All that being said, I tend to do my Christmas layouts on anything but Christmas papers. I look for papers that suit my photos, or rather photos that suit my papers. When I pulled out the Bo Bunny Abbey Road papers to work on recently, the first photos I thought of were ones I had been going through a few days earlier. The photos are of my daughter, who at just shy of three in these photos, shares her Mama's love of Christmas. Between pregnancy and travel, this was the first year in several that I'd put up a tree. Even though I barricaded myself and the tree away from the kids in order to get the decorating done, it didn't last. As you can see, I relented to a pair of big blue eyes and let a little girl hang a few ornaments on the tree. The title says it all. She was simply enchanted.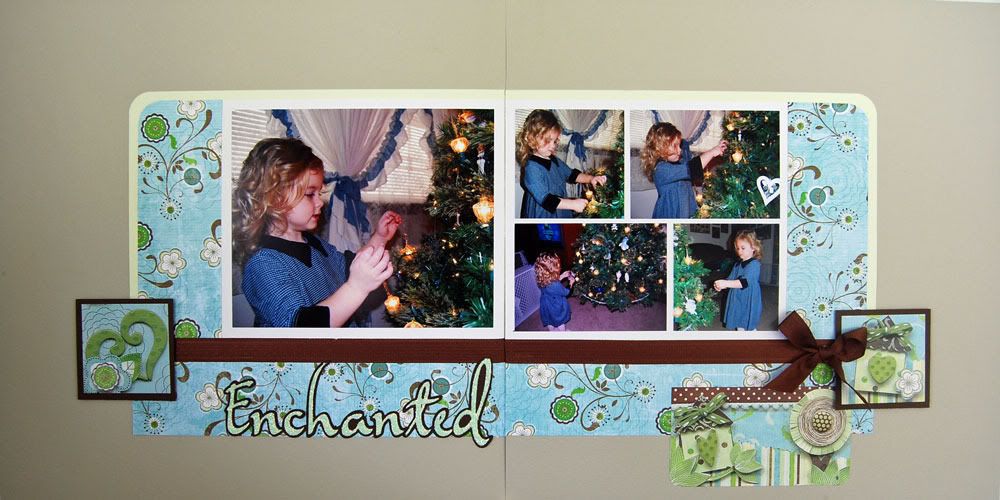 The photo on the left is a 5x7, while the ones on the right are wallets. This is a simple layout, using only one sheet of patterned paper, in contrast to the three or more different patterns I tend to prefer. I made up for the lack of patterned paper by using three different colors of cardstock. I did the center pieces of this layout and tried it on several very dark tones before finally settling on the lighter putty tone for the background. I'm finding that my layouts lately use a lot of white space around photo area. I was really wishing my LSS had a better selection of Bo Bunny double dot cardstock when I was putting this one together. The subtle dot pattern would have been a great accent in the background.
I glittered the letters with pale green Art Institute glitter, mounted the stickers on cardstock and then on pop dots to give a bit of extra dimension. The ribbon is more of the Wrights Binding Tape.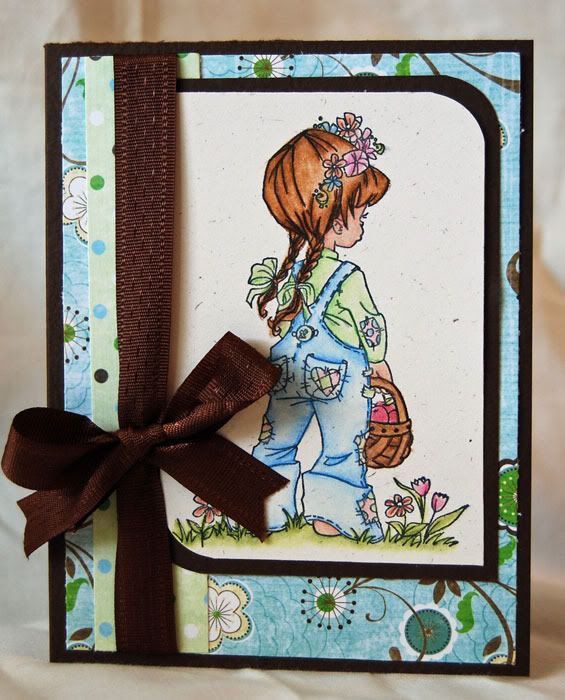 Even with all the paper I used on the layout, I still had enough left over for a quick card. This time, I got extra impact by pairing it with a dark chocolate cardstock. I colored up one of my favorite Elisabeth Bell images from Funky Kits called Reflective. I used prismacolor pencils and blended it out with Zest-It. The image was stamped on PaperTrey Ink's oh so yummy Rustic White cardstock. I kept the card simple, rounding the corners with my spiffy new We R Memory Keepers Corner Chomper (seriously awesome tool!) and finished it off with a bit more of the brown hem binding tape from Wrights.
I tend to leave the sentiments for the inside of my cards unless I have a specific person/event in mind when I make them. This one is destined to be a "thinking of you" card, or a nice thank you card. Either sentiment suits the image quite well.

Supplies are simple this time. Prism cardstock, Wrights hem binding tape, Bo Bunny Abbey Road paper and stickers. Not a button in sight and nothing from the Creative Cafe. Simply amazing! :)