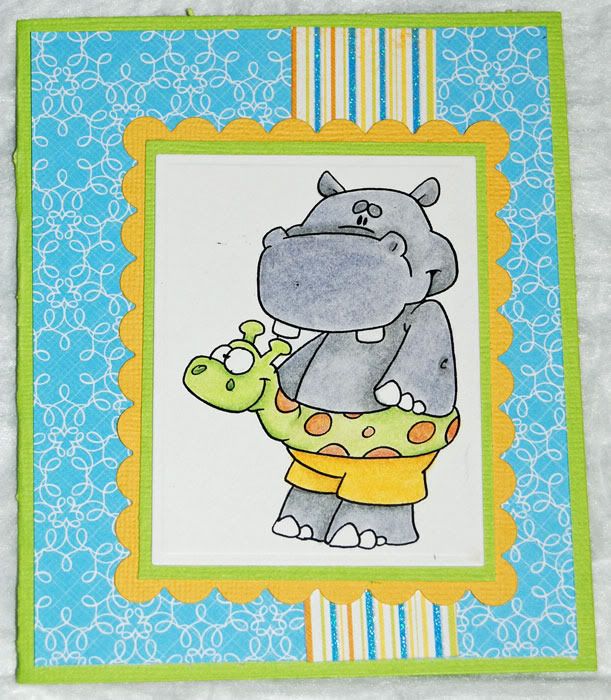 Or maybe its just these cards!
I want to thank everyone who posted such lovely comments on my blog. I do hope you'll come back and visit me some time. Winners of the hop will be posted on Dustin's blog very soon now. While you're waiting, I have a couple more hippos to share with you. I will say that Dustin's dragons are my all time favorite of images, but these darling hippos have quickly found their way into at least the top three. If you're new to my blog, let me say that I am a devoted pencilist. Until very recently, Prismacolors held my heart, coming in as my number one coloring choice. All that changed when the hubs rocked Valentine's day this year. He gifted me with the complete set of Derwent Inktense pencils. I am in love! These darling hippos were done entirely with the Inktense pencils.
Derwent says about them "
Pen and ink offers strong, intense colour combined with a translucent effect. Now you can enjoy these distinctive qualities in an easy to use pencil. Inktense has a highly blendable texture and comes in a range of 71 jewel-like colours, plus a non-soluble outliner which allows you to draw outlines that are permanent, even when water is applied. Apply pure, vibrant dry colour then wash the pigment out completely to leave an ink-like effect. Once dry, the colour is permanent and can be worked over with other media. The possibilities are endless, the results stunning.
" I say, "these pencils totally rock". Mine is a bit shorter than theirs, although, there's has a lot of good things to say about these awesome pencils.
I will say that the greatest impact comes when using a wet brush. The colors seem to leap off the page to give you a big vibrant kiss of color. That being said, these pencils are also amazing when used with Zest-It as I have done here. For someone who thought that 132 colors could not possibly be enough variety, I've been incredibly content with a mere 71 colors. Not that I wouldn't be opposed to a few extra colors here and there. I highly recommend giving these pencils a try. I got mine at Dick Blick, as they seem to have the best price around for the set. I paired them with a nice Global leather case made for 72 pencils. These pencils are chunkier than your standard prismacolors. While they do fit in the case, they are seriously snug for the first five or so uses of pulling the pencils in and out. After that the leather and elastic relax a bit and they're easier to get in and out.

A quick run down of supplies here. Obviously, Derwent Inktense pencils for the coloring. They done on my favorite Gina K. Pure Lux cardstock in base weight. I'm continuing to shop my stash for patterned paper and cardstock. The first card was done with the Citrus Die Cuts with a View stack, the other two are done with My Minds Eye Bloom and Grow collections. I believe both are from the Bloom side. Expect more stash shopping from me in months to come. I've got such a huge stash of papers that it seems silly to buy new! I'm learning to be frugal with my supplies for a change. Not to mention no local store to browse through!