Back in February, I won a bit of sugar...S
ugar Nellie
that is! Last week, they finally arrived. Two darling, yet to be released Elisabeth Bell stamps. LOVE THEM!! I had both stamped and colored and ready to make up into a project. The
Sugar Bowl challenge
this go around is cards/projects for Mom. I know my mom is going love getting this card! I haven't decided if it will be for Mother's Day, her birthday, Easter, or just because I'm thinking about her. Just because will come the soonest, and I've got a couple of mini-books that need to head her way, so that's the most likely. She loves getting handmade cards and keeps them forever. She's one of those people you put a little extra into the card for because you know she'll treasure it, rather than trashing it.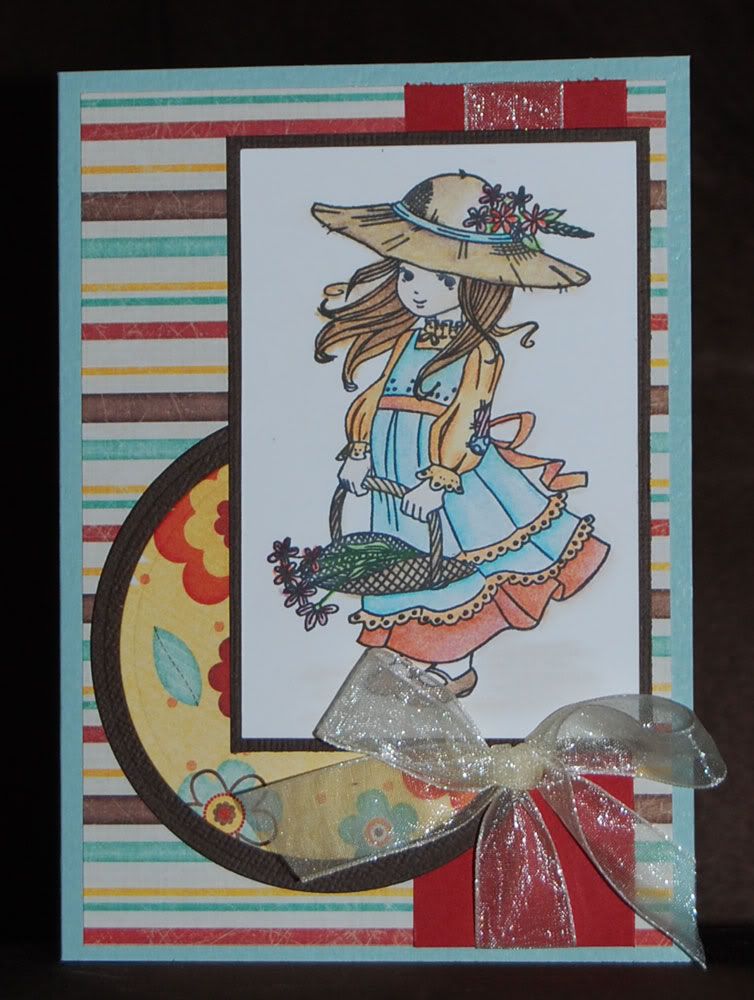 I used this week's
cupcake challenge sketch #59
that Miss Taylor does. I turned the sketch on its side to accommodate my vertical image. As most of my cards are either hand delivered or tucked into a package of other things, I rarely worry about envelopes. That gives me a lot of freedom when it comes to card sizing. I over sized this one in length by 1/2 inch, so it's 6 x 4 1/4.
The card is colored with Prismacolors & blended out with baby oil, ink is Memento Tuxedo Black. Cardstock is Prism for the card base, My Mind's Eye for the patterned and Gina K Pure Lux for the image. The ribbon is Ribbon FX from Hobby Lobby. The image is available
Funky Kits
now!