With all the excitement about the Design Team and my anniversary gift trip to the convention, my kit club has gotten second fiddle this month. The fact that I struggled a bit with the papers this go around also delayed things a bit. The papers were SEI Poppy. Simply gorgeous with metallic shimmery highlights. Overall, it was a smaller kit than the last one, which I expected as the metallic papers cost more. The shop owner made up for it with a great selection of embellishments. There were matching die cuts and buttons from SEI, paired with their duo toned cardstock. In addition we had cute pompom trim, Creative Cafe tags, mirrors and sand. Yep, sand. The sand challenged me and I had several ideas tucked away to make use of it, but I just couldn't make any of them gel with the rest of my layout ideas.
I added a few bits of my own after shopping at CKC. I do love these papers, so I'm sure I'll use them up somewhere. The blues and whites are definitely destined towards something altered for Christmas.
I printed four sets of pictures to use with these papers and ended up using just two. During a cleaning spurt last weekend, I sorted through a huge pile of pictures that had been stacking up on my desk. Most of them were Wal-mart muck ups, where they double printed or printed something in error and had to reprint, or their machine was broken all weekend and I decided I didn't need the pictures after all. In the midst of all of that, I did find a nice stack of photos perfect for upcoming layouts. I need a few to fill out the selection, but that's easy to remedy. One set of photos is from 3 years ago. Our last babyless vacation. I was actually preg at the time with Miss. We're not in these pictures. It's of the International Association Firefighter Fallen Firefighter Memorial in Colorado Springs. It's a very poignant place for me and brings home the fact that what my guy does isn't the safest thing. I so never want to visit this place to see my DH's name inscribed on their wall!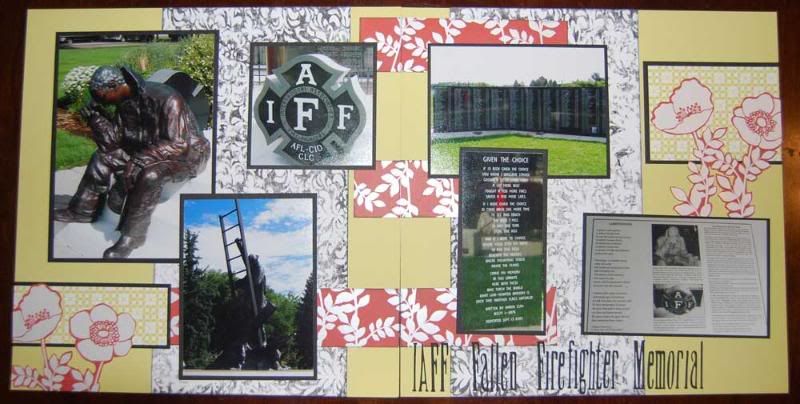 I do like how the layout turned out, even though I basically hacked a very pretty piece of red & white paper to bits before I finally settled on a design. :) You would think with girls that flower paper would be a piece of cake. Man! I could not believe how much I fought these! Next layout is a design I pulled from the August Page Maps. I reversed the design to work with my pictures. These are of Missy's very first culinary adventures. She got to make cookies with Daddy. She was so excited. They aren't anything fancy, just one of those refrigerated rolls of cookie dough you can buy, but to her, it was culinary greatness. I've been missing my Cricut lately, so I do a fancy welded title on this one. It's probably over the top flowery, but I had fun doing it.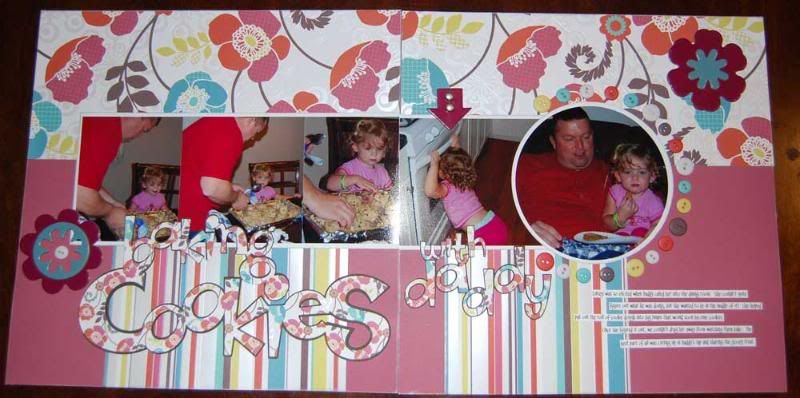 Last layout is one on the boy child. I did one of these with Miss a couple of years ago and I knew I wanted to do one on him. One of the side benefits of having a C-Section is that I got to have a bit of say in my delivery day. Mister timed things just right so that he could be born on my Father-in-law's birthday. My DH is the only son of an only son, who now has an only son. The name carries on. Frank passed away nearly 8 years ago. I so wish he could have been here to see the next generation of Reed's being born. He would have loved that boy!
Per request, I have done larger files. Current images are 500 pixels. If you want to see them bigger, click for a 1000 pixel version. Only the layouts are this way. The kit stuff was done beforehand and I didn't go back and resize them.